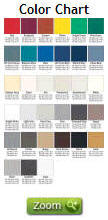 Custom restroom signs are no longer cost prohibitive and hard to get. Quality and ADA compliant custom restroom signs are easily manufactured to you specifications. Choose from 33 colors.
Because we offer 33 colors, many times, you can create signs similar to your existing signs. add text, pictograms , and Braille.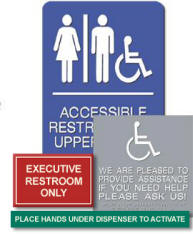 Specifications on custom signs can match stock signs with 1/32" tactile symbols, text with Grade II Braille, all signs include double sided pressure sensitive mounting adhesive or use your own mounting system. Pricing and lead time (normally about 3 weeks) will very depending on the options selected. Once you have received your basic quote, you can order your signs. We will then send you a proof for your approval before manufacturing you custom restroom signs. This allows you to make any small changes and get the quality signs you ask for.
Get a Quote: Contact Us